Bring Your University, Boarding School, or College Prep Program to Life with a Virtual Tour Video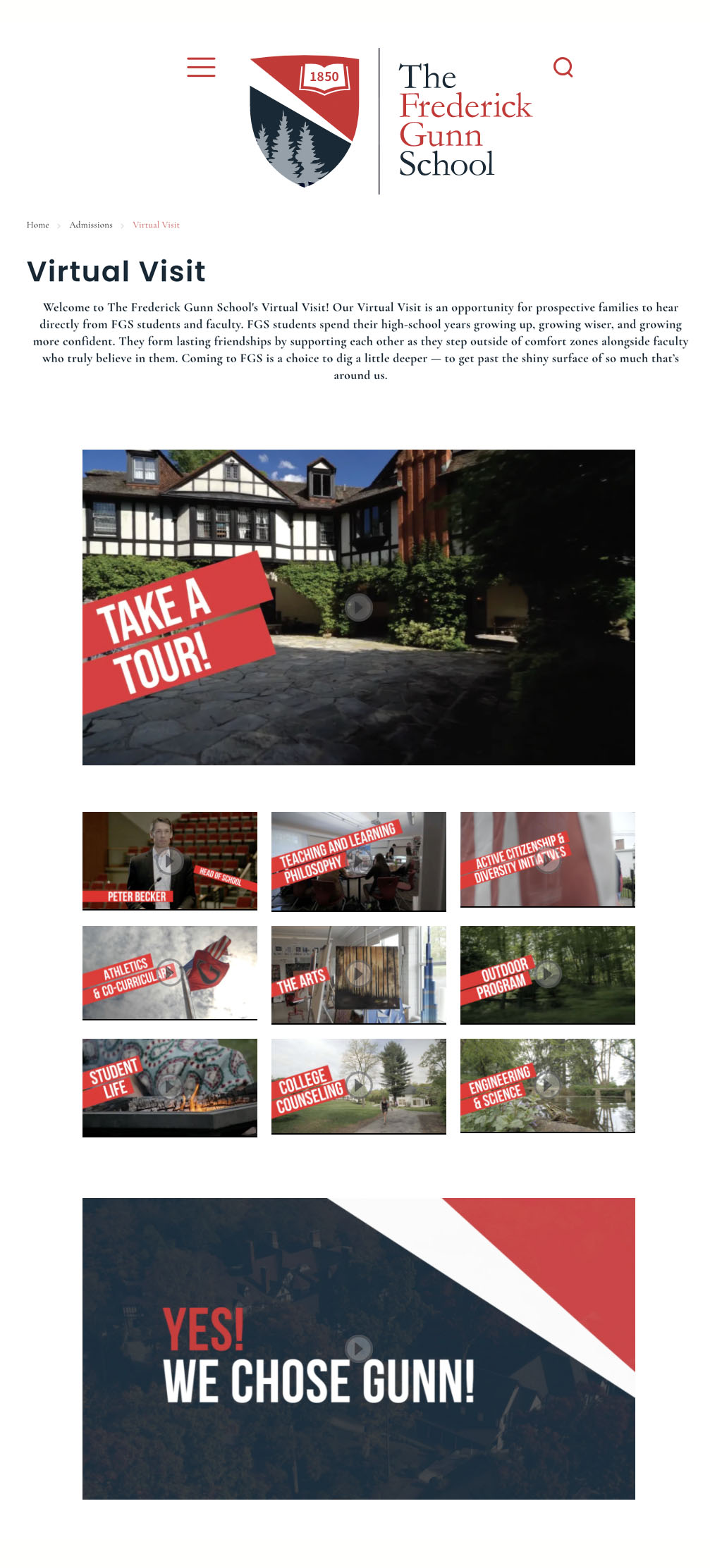 First impressions carry a lot of weight in the world of academia. Students and parents may visit or research dozens of programs before they make their final decision. You can use video to quickly introduce your school or program to thousands of prospective students around the world, so they know exactly what to expect before they set foot on your campus.
College Prep Virtual Tours
Every school and college prep program is different. Use a college prep virtual tour to tell students and parents what your school is all about, and be sure to include topics like:
What students can expect to get out of the program
How you help students prepare for their academic future
What life is like around campus
You can use digital media to highlight what makes your program special, so students can see for themselves why they should choose your boarding school or college preparatory program.
Some students may be unable to visit your program or campus in person, so why not use virtual campus tours to bring your school to them? Prospective students and parents will be able to watch your video on your website, social media, and other platforms, helping you reach out to students and talented young individuals who might otherwise get left behind.
College and High School Virtual Tours vs. Traditional Recruitment
Brochures, pictures of your school or program in action, and lengthy mission statements can only do so much to educate potential students. Use video to show these individuals the ins and outs of your facility, including:
Classrooms
Housing
Recreation centers
Arts and entertainment
Any other special features students enjoy on campus
You can introduce faculty members, talk about the curriculum, and interview existing and former students about their experiences.
Capture the attention of education consultants and bring education to life for students around the world with a college prep school virtual tour. Contact the video production professionals at Geomatrix Production today to learn more.
We've produced educational videos and school admissions videos for The Ethel Walker School, Oxford Royale Academy, The Frederick Gunn School, Hartford Public Schools Open Choice Program, New Haven Magnet Schools, Notre Dame High School and Yale University. Find out what our educational video production services can do for you.
Geomatrix Productions has provided video services to law firms, corporations, schools, non-profits and marketing/advertising firms.  View our video production client list or testimonials.