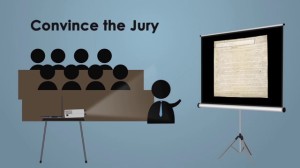 Video for use in litigation is not one size fits all.  At Geomatrix, we approach every video with the unique needs of the individual case in mind.  There are several line items we use in determining cost, including consultation, video recording and video editing time required to complete the objective we set out to achieve.
The following will help get you started in determining what will best suit your goals:
1.  Is the video for use at trial or will it be used for settlement negotiations?
This is a very important distinction.  Video prepared to trial must conform to the rules of evidence. However, video designed for use in settlement negotiations, though truthful, can be created with persuasion in mind.  Each requires a different mix of services and time.
2.  If it is a trial video, is it a Day in the Life documentary, or is it demonstrative evidence?
The Day in the Life documentary is a carefully prepared telling of the condition of the plaintiff at a given point in time.  It is generally recorded in one day and is well-crafted to tell the story and meet the rules of evidence.  Demonstrative evidence may include but is not limited to a simple recording of a therapy session, an actual or animated accident reconstruction or an interview.
3.  If it is a settlement video, will it cover liability as well as damages?
Compelling settlement videos can tell the entire story of the case from the incident forward, or just cover the damages. If liability is included, the video is more involved, often requiring a narrative to be drafted by the attorney, and turned into script format by Geomatrix. Be prepared to tell us what type of material is available such as 911 recordings, accident photos and family photos, or if you think we will need to generate some evidence such as 3D animation.
At Geomatrix, we make the process very simple and base everything on your goals and objectives for the video, including video depositions.  For over 35 years, we have approached each new case as unique, understanding key messaging and nuances, while applying tried and true techniques.