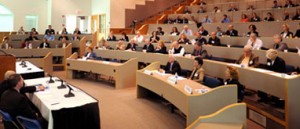 Geomatrix President Cathie Reese went back to school for a day this Spring as a lecturer on the Effective Use of Visual Evidence at Quinnipiac University Law School.
Visual Persuasion in the Law is a 3 credit elective course taught at both Quinnipiac and the New York Law School by Professors Neal Feigenson and Christina Speisel.
The course aims to provide students with the tools required to communicate visually in the courtroom and to articulate responses when faced with visual images.
"Not only are visuals of critical importance, but the practice of law is rapidly becoming digital," according to Reese. The more adept a trial attorney becomes in this new environment, the easier his or her job will become. Electronic trials are embraced by many and feared by some. That's why Geomatrix feels it is important to help develop the next generation of tech-savvy attorneys. "We are constantly learning here at Geomatrix, and we enjoy sharing each new development with our clients," Reese continued.
To assist those who are technically-challenged, Geomatrix offers Lunch and Learn seminars on request.