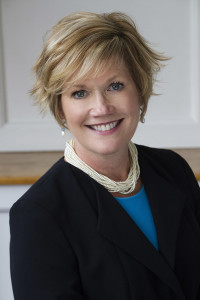 Cathie Reese has had Geomatrix on her business card for over 30 years. As President, she leads the team, maintaining focus on the client and the deliverables.
Cathie has seen remarkable changes in both the corporate and legal video fields and as the company's primary producer, she remains passionate about her work.  A skilled, compassionate interviewer she makes her subjects feel comfortable in front of the camera – whatever the topic, wherever the location.  Ask what she loves most about her long career with one company and Cathie will tell you that it is the variety of subjects and the multitude of hats, coupled with the collaborative and creative nature of the work that keeps her going.
Outside the office, you can find Cathie outside!  She loves to travel and as an avid skier lugs her gear around the globe in search of perfect bluebird days. Her passion for wine finds her frequently touring vineyards, and as a photography hobbyist she always packs her camera.  She is the proud mother of Kyle and daughter-in-law Jen. With them and long lens in hand, she captures the action as Kyle competes with team RSP Racing at the Louden Road Race Series. While Jen, ever dedicated and master of all things baking, provides her specialty items for the team.