Viewing posts from: April 2016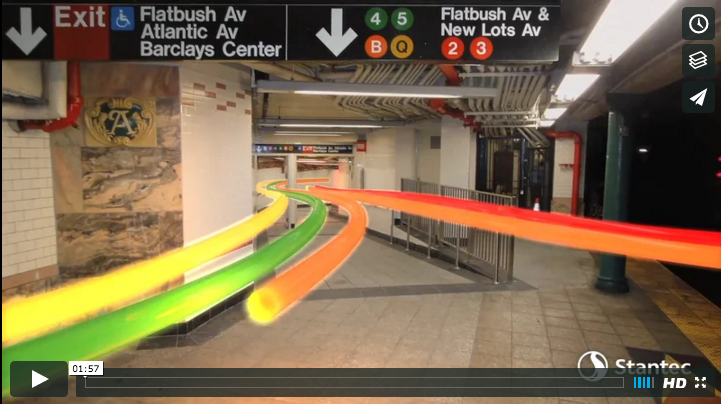 19Apr
A high caliber project deserves high caliber coverage and that's exactly how Stantec sees it. Upon completion of the Barclays Center Station at Atlantic Yards and using a commercial cleaning service, Stantec collaborated with Geomatrix Productions to create a video highlighting the benefits this project has brought to Brooklyn and the City of New York.
Stantec's objective was to showcase the teamwork involved in the design and construction of a new subway entrance and their goal of improving the flow of people coming from the subway up to the Barclay Center. Geomatrix took this idea and ran with it.
"The biggest piece that really makes the video special is the animation Geomatrix created. Everybody just loved it and it really helped them understand the benefit we brought to the station design. This project greatly improves people flow and the idea to add the animation just captured that perfectly." Alison Smith, Public Relations Manager, US Northeast, Stantec
Not only did Geomatrix introduce the idea for the animation, they also helped structure the interviews Stantec wanted to include in a way that enhanced the video.
"We knew the general story we wanted to tell, and we knew the people who were going to be in the video. There was someone from Stantec, one of our clients, and the general contractor who worked on the project. We had prepared some overview questions, but Geomatrix was really great on the fly and able to expand on them provoking comments that worked really well for the video," said Smith.
There were many challenges faced by both Geomatrix and Stantec in the production of this video. Between freezing 8-degree weather, loud background city noise, and security issues with filming in a New York City subway station, just shooting this project was a feat in itself.
"Watching the video, you wouldn't even be able to tell the challenges we faced. It is truly a testament to how easy it is to work with Geomatrix," said Smith.
Stantec's strategic use of video has allowed the design firm to truly separate itself from the competition. Instead of simply featuring projects with photos and text, Stantec uses video to tell stories about their people and projects, highlight their diverse creative range, and artfully display the different types of projects they produce.  "It allows us to differentiate ourselves," said Smith.
In addition to using video to feature projects, Stantec also creates videos for coverage of community service work they do throughout North America. In this way, Stantec has become a thought leader in their industry, showing their commitment to not only bettering themselves but also the community.
"We tend to focus a lot of video on our people and community service work, which Geomatrix has done for us as well. We have an annual company volunteer day and make a video every year for that. It tells a great story; it's always visual and people oriented," said Smith.
Stantec's Atlantic Yards  web feature is a great example of how quality marketing is just as important as the quality of your work.
Read more