Viewing posts from: October 2019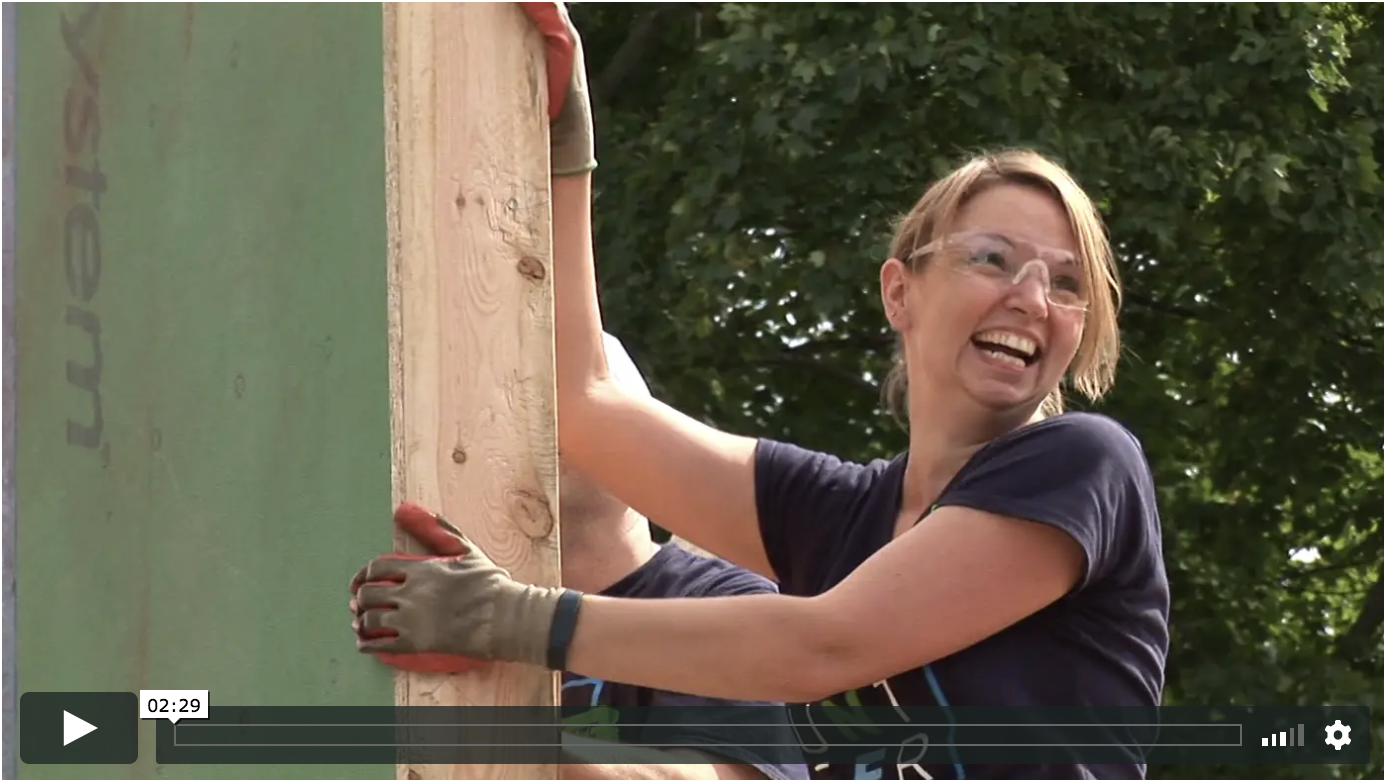 08Oct
Hartford Area Habitat for Humanity has what every non-profit dreams about having. A recruiting and fund-raising "super-tool." It is a two-and-a-half-minute video that captures the energy and illustrates the morale building that permeates throughout every Habitat home-build. They use it to help recruit for the organization's Build-A-Thon, an annual event for corporate sponsors to come out and get all of the home projects built and enclosed before bad weather arrives. The organization has been able to use the video throughout several platforms, including social media, newsletters, e-blasts, their web site, and at presentations. Karraine Moody, Hartford Area Habitat for Humanity's Chief Executive Officer, makes sure she shows it at every presentation she gives.
"We have many stake holders who help us create homeownership and the video captured that. Folks walk away fully informed and they know exactly what our mission is, and what a corporation's role is within Build-A-Thon. The video confirms that what we are building isn't substandard – it confirms that it is hands-on – and people come away saying, 'OK, I get it now. It's a great opportunity for my team. We are going to leave tired, but we are also going to leave fulfilled.'"
Moody says at the end of the day, 8 out of 10 potential sponsors now say yes to the commitment.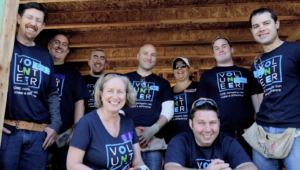 "Once we present the video, it's done. All the questions have been answered and everyone loves it. At that point it's 'OK, what dates are available and what does the sponsorship look like?"
 Habitat for Humanity's believes everyone deserves the right to live in a decent, affordable home. The Habitat mission is to help families and individuals in need live in dignity and safety by constructing, rehabilitating and preserving homes they can call their own. The non-profit organization simply can't fulfill that mission without the help of volunteers and corporate sponsors.
To ensure that potential sponsors who are approached say "yes," Habitat decided they needed a video to "seal the deal." They chose Geomatrix Productions to produce it.
"It was the first time for us to make this investment. It was really about how we could market Habitat beyond the base we currently have to introduce our affiliate and explain our mission to a wide range of new potential sponsors and volunteers. It also gave us the opportunity to spotlight some of our long standing sponsors and generate individual video clips for those sponsors to share the work they had done. To have real life testimonials and be able to give back to our long term sponsors was the biggest gift."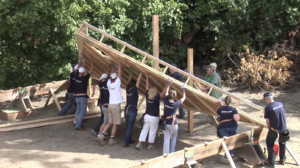 Moody says the organization looked at a few production companies, and because of Geomatrix's open attitude to being on a construction site and the ease that was presented at their first meeting, they said "This is the firm for us."
According to Moody, Geomatrix did not disappoint.
"We had a great experience. All of our questions were answered. While shooting video on the work site, we felt we had input by being able to see the clips and have the opportunity to make changes on the spot. To have that opportunity was amazing, especially because it was our first time doing a video. You want to have a partner who is going to be receptive, and who allows us to be at the table consistently throughout the process. I give Geomatrix a 10 in terms of customer service, follow through, input and feedback."
Geomatrix producer Patrick Volk says capturing the energy of the build on video was infectious.
"The energy on the construction site pulled us into the project even more, and I think it shows on the finished product. We truly enjoyed collaborating with all the staff at Habitat and are thrilled they are happy with the outcome."
Moody plans to work with the Geomatrix team on other videos in the near future.
"We're coming back. What I love about the Geomatrix team is that everyone is engaged and everyone is bringing their A game to the table. To be on-site with professionals who are looking to give you their best product and who make sure you are content with the outcome – that's priceless."
###
Read more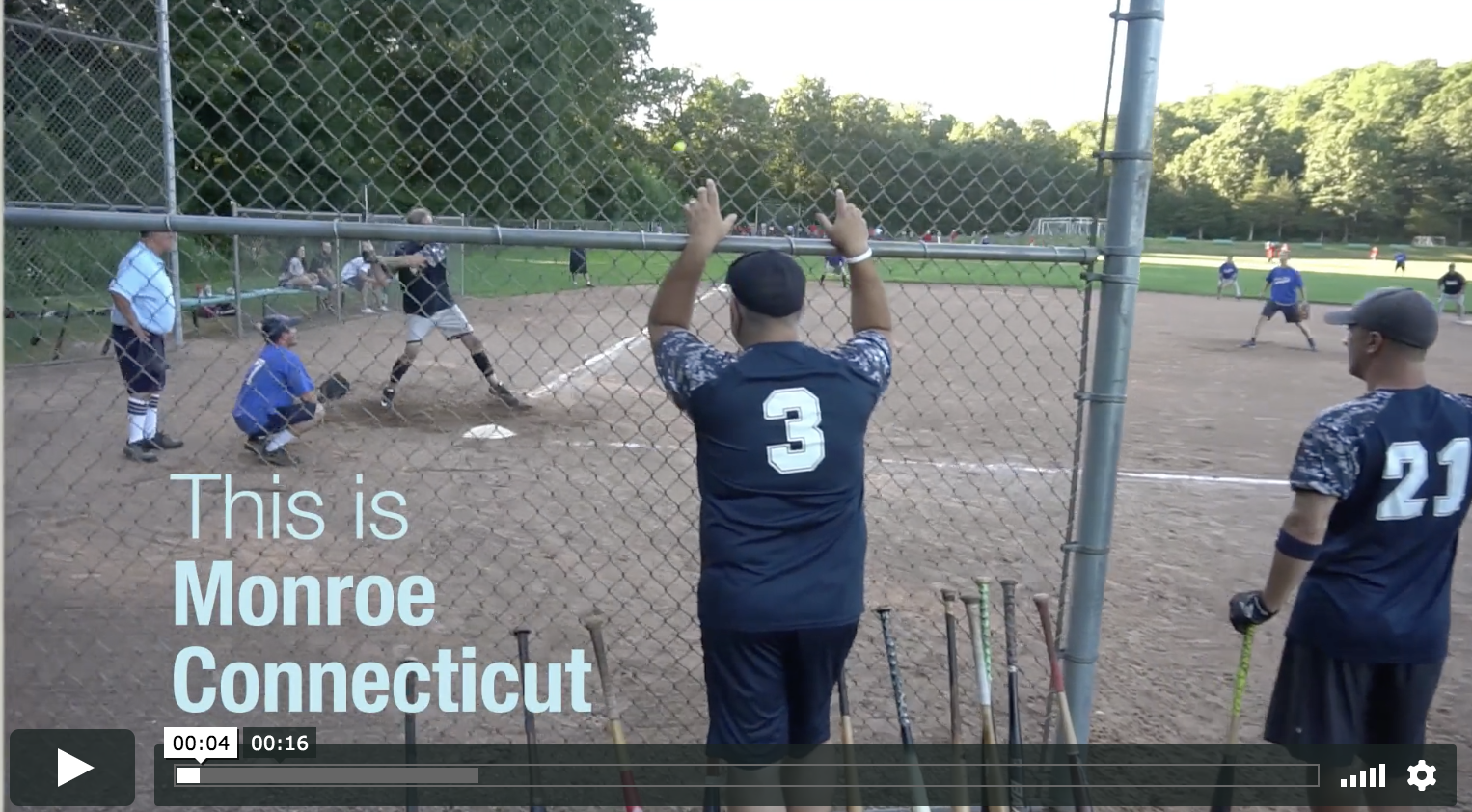 03Oct
With a rich tradition and a vision for the future, the Fairfield County, Connecticut town of Monroe is on the move. So when the members of its Economic Development Commission wanted to share the town's appeal and economic advantages with the world, part of their plan was to have a video produced.
Hands down, they chose Geomatrix Productions to take the wheel on their journey.
The EDC's goals were to ignite commercial development in their business and industry zone and attract skilled workers and families, thus increasing the tax base to continue to provide the town with a stable economy.
Monroe First Selectman Kenneth Kellogg:
"We wanted to have a robust marketing plan and I view this video as a key component of the bigger picture. For families and businesses deciding where to locate, this video tells our story. It showcases what we as a town have to offer and how we are changing with the times while retaining our town's charm and character."
In a collaborative effort, Geomatrix's team wrote and produced a three minute video that captures the real essence of the town, from its history and heritage to its population, award winning schools, quality of life, neighborhoods, architecture and the arts. It highlights Monroe's strong retail and corporate base and proximity to highways, large cities and the beautiful Connecticut coastline. And it concludes by referring to steps the town has created to make a move there easier for businesses – a new era in economic development.
The pace of the video combined with a welcoming voiceover and uplifting music evokes confidence and opportunity, as it encourages viewers to "stop and spend a day or two" to discover the town's wealth of benefits for themselves.
The video is on the town's web site, and has been shared with prospects on an ad hoc basis. It has been shared with the State Department of Economic and Community Development, and distributed on flash drives to commercial brokers.
"I've yet to hear anything but positive feedback on it," said Kellogg. "It has helped us in more ways than we probably even know".
Kellogg shared the process of working with the professionals at Geomatrix:
"When we went to that first review of the script, I said to myself, 'Wow, they covered all the main points that were important to me and that we wanted to make sure were covered.' We had a few ideas to maybe refine things a little, but they really did a great job in making sure that the message we were trying to get across was there, and it was all done within a limited amount of time. Additionally, they did so in a way that flowed really well. I was very impressed in their ability to get that script done as well as they did."
As for the video itself, Kellogg said Geomatrix was right on target:
"It was important to get across the type of community we are. We have a farming history and a desire to not lose that New England charm and character but at the same time we understand that we need to grow our commercial and industrial base. The things like our parks and education system and farmers' market – the things that show how engaged people are in the community and the fact that we have a lot of opportunity here with undeveloped land were key, along with the fact that we recognize responsible growth. The folks at Geomatrix hit it on the mark. It was an extremely positive experience. All of our interactions with them were excellent and professional and they listened and they delivered."
You can build the future of your town or city with a video as well. Contact the professionals at Geomatrix to talk about how we can help.
Read more