08Oct
Hartford Area Habitat for Humanity has what every non-profit dreams about having. A recruiting and fund-raising "super-tool." It is a two-and-a-half-minute video that captures the energy and illustrates the morale building that permeates throughout every Habitat home-build. They use it to help recruit for the organization's Build-A-Thon, an annual event for corporate sponsors to come out and get all of the home projects built and enclosed before bad weather arrives. The organization has been able to use the video throughout several platforms, including social media, newsletters, e-blasts, their web site, and at presentations. Karraine Moody, Hartford Area Habitat for Humanity's Chief Executive Officer, makes sure she shows it at every presentation she gives.
"We have many stake holders who help us create homeownership and the video captured that. Folks walk away fully informed and they know exactly what our mission is, and what a corporation's role is within Build-A-Thon. The video confirms that what we are building isn't substandard – it confirms that it is hands-on – and people come away saying, 'OK, I get it now. It's a great opportunity for my team. We are going to leave tired, but we are also going to leave fulfilled.'"
Moody says at the end of the day, 8 out of 10 potential sponsors now say yes to the commitment.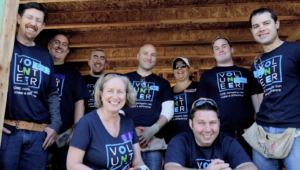 "Once we present the video, it's done. All the questions have been answered and everyone loves it. At that point it's 'OK, what dates are available and what does the sponsorship look like?"
 Habitat for Humanity's believes everyone deserves the right to live in a decent, affordable home. The Habitat mission is to help families and individuals in need live in dignity and safety by constructing, rehabilitating and preserving homes they can call their own. The non-profit organization simply can't fulfill that mission without the help of volunteers and corporate sponsors.
To ensure that potential sponsors who are approached say "yes," Habitat decided they needed a video to "seal the deal." They chose Geomatrix Productions to produce it.
"It was the first time for us to make this investment. It was really about how we could market Habitat beyond the base we currently have to introduce our affiliate and explain our mission to a wide range of new potential sponsors and volunteers. It also gave us the opportunity to spotlight some of our long standing sponsors and generate individual video clips for those sponsors to share the work they had done. To have real life testimonials and be able to give back to our long term sponsors was the biggest gift."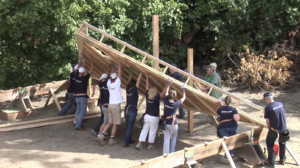 Moody says the organization looked at a few production companies, and because of Geomatrix's open attitude to being on a construction site and the ease that was presented at their first meeting, they said "This is the firm for us."
According to Moody, Geomatrix did not disappoint.
"We had a great experience. All of our questions were answered. While shooting video on the work site, we felt we had input by being able to see the clips and have the opportunity to make changes on the spot. To have that opportunity was amazing, especially because it was our first time doing a video. You want to have a partner who is going to be receptive, and who allows us to be at the table consistently throughout the process. I give Geomatrix a 10 in terms of customer service, follow through, input and feedback."
Geomatrix producer Patrick Volk says capturing the energy of the build on video was infectious.
"The energy on the construction site pulled us into the project even more, and I think it shows on the finished product. We truly enjoyed collaborating with all the staff at Habitat and are thrilled they are happy with the outcome."
Moody plans to work with the Geomatrix team on other videos in the near future.
"We're coming back. What I love about the Geomatrix team is that everyone is engaged and everyone is bringing their A game to the table. To be on-site with professionals who are looking to give you their best product and who make sure you are content with the outcome – that's priceless."
###