01Sep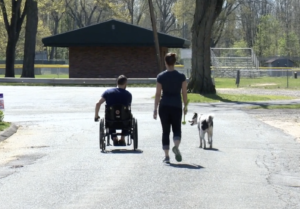 In a lawsuit on behalf of an Iraq War veteran who was paralyzed in a swimming accident, a video produced by Geomatrix Productions helped the plaintiffs win an unparalleled jury award for a personal injury premises liability case in Rhode Island.
On the weekend of July 25, 2014, Connecticut residents Brett and Stacie Smith were attending a wedding at a conference center owned by the University of Rhode Island. After the rehearsal dinner, a group from the wedding party asked the staff if it would be okay to go swimming in a nearby pond. They were told they were allowed to swim, (despite the facility's position at trial that swimming was prohibited) leaving the guests unaware that submerged rocks in the pond made swimming dangerous. Additionally, there was no signage placed at the pond to prohibit swimming or warn of the rocks. The Smiths' attorney, Patrick C. Barry of Decof, Decof & Barry, P.C. in Providence said management was aware of the danger that lurked underneath the water.
Some of the guests swam and dived off a large rock in the middle of the pond with no incident, until Brett dived and struck his head on a submerged rock. The accident resulted in life-altering injuries. Today, the former marine, accomplished athlete and adventurer is paralyzed from the chest down with limited use of his hands. Stacie, his wife and caregiver, assists the 34-year-old with his daily functions.
On a recommendation from co-counsel Christopher Houlihan of Riscassi & Davis P.C. in Hartford, Attorney Barry hired Geomatrix Productions to produce a compelling video that illustrated the day to day struggles the young couple face.
According to Attorney Barry:
"We felt it was important to let the defense lawyers, the insurance company and the decision makers at the university know as much about the plaintiffs and the nature of Brett's injury as quickly as we could. We asked Geomatrix to produce the video early on in the litigation and provided it to the defense with our initial discovery responses to give them the proper introduction to who the plaintiffs were. I thought it was so powerful and so compelling that it might move the defendants and the insurance company to realize that this case should be more of a settlement posture than a trial posture."
However, the case did go to trial. Attorney Barry:
"The defense had a legal argument—In a diving case they believe that under Rhode Island law it is essentially always the injured party's own fault. The facts of our case were very strong but they were choosing to defend it based upon their view of the law."
Because of the rules of evidence, Geomatrix repurposed the video so Attorney Barry could leverage it at the trial:
"What Geomatrix did very well was intersperse throughout the video actual footage of Brett doing various therapies that he had to struggle with and other aspects of his daily routine, like the limitations he had with his hands in terms of eating his food, to wash dishes or brush his teeth, to other clips of him getting in and out of a car and what it takes to do that. We then isolated each of those clips for the trial and rather than playing the whole video we showed the shorter segments. We had either Brett or Stacie describe in person to the jury what they just witnessed."
"Geomatrix did a great job of isolating all those segments, finding aspects of his care and his daily routine that would be compelling to a jury and then technically providing us with the clips that we could use in the courtroom right off a laptop, all of which played and displayed flawlessly. Even when we had to make last minute mid-trial technical adjustments, the staff at Geomatrix was able to do those things. Everything went off without a hitch."
After deliberation, the Superior Court jury reached its verdict and found URI negligent for failing to truly prohibit swimming and keep guests out of the pond. The jury awarded Brett and Stacie a total of $32 million dollars for past, present and future pain and suffering, future medical care, home renovation and equipment expenses, including statutory pre-judgment interest.
According to Attorney Barry:
"It was the second largest verdict in Rhode Island history and it's so high because we were able, with help from Geomatrix, to thoroughly demonstrate the full extent of Brett's injury."
Attorney Barry's strategy:
"My approach to a trial is always to be able to tell a compelling story–something that will cause a jury to take action. In severe injury cases, the nature of the injury itself and what it means for the person is sometimes overlooked because it seems so obvious. I wanted to make sure that we told an equally compelling story about what Brett and Stacie have to struggle through every day, and Geomatrix played a central role in that—I was thrilled with them and will use them again."
Attorney Barry on the power of video:
"We live in a visual world and video can reveal and depict things that questioning a witness alone cannot."
Whatever the challenge, whatever the strategy and whatever the timeline, you can count on the resolute and experienced team at Geomatrix Productions to deliver a product that will get you the results your clients deserve.