27Jun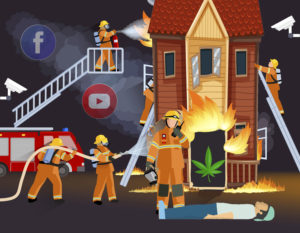 An elderly Connecticut woman suffers from dementia and is moved into a nursing facility. Her home is left abandoned by her conservator when he moves to California. Eventually the house becomes dilapidated and the town sends the conservator a notice because the property is now violating a blight ordinance, but there is no follow up. Unexpectedly the conservator dies. Three teenage boys (Billy B., his brother & a friend) get into the vacant home & proceed to smoke marijuana on the property. The house catches fire & and Billy dies.
This is a brief synopsis of "The Mysterious Case of Billy B." If you don't remember ever hearing about this tragic case, it is because it never actually happened. It is a hypothetical case that was constructed for the CLE portion of Connecticut Paralegal Day 2019. Multiple individuals from all aspects of Connecticut litigation & law shared their expertise on key issues of this fictitious matter & focused on what they would address in these circumstances.
After the hypothetical was presented, the CLE truly began. Plaintiff's counsel commented on how they would approach the case and Defense counsel explained what action would be taken to counteract these claims. An elder law attorney spoke on key conservator issues. A state attorney addressed criminal prosecution, which of course brought in another counsel to discuss criminal defense.
From private investigators to a retired Connecticut Superior Court Judge, it continued, experts weighing in on concerns & actions to be pursued in "Billy B's" case.
Geomatrix Litigation Support Specialist, Walter J. Stopka, addressed what was to him an audience with many familiar faces, and presented Geo's take on the case.
"Hi, I'm Walter from Geomatrix. Some of you may already know me. Did you know Billy B. was a straight "A" student? He had a full ride to MIT. Billy also volunteered at the local soup kitchen & sang in his church choir. On top of that Billy B. was a champion clog dancer, and all of this will come out in the Wrongful Death settlement documentary we are producing.  Defense will get a powerful preview of what the jury is going hear when weighing damages."
"That said, defense counsel has decided to refute the claim of pain & suffering. They found an expert who will show exactly how marijuana blocks pain receptors in the brain and we are collaborating with him on a demonstrative 3D animation that will prove it."
"Defense counsel also found photos & video on social media of the boys playing with fire. These kids would actually draw pictures with gasoline then set them ablaze. The trouble is there's difficulty getting these files offline, so Geomatrix will download and capture all of that."
"In addition, the private investigators discovered, the next-door neighbor has surveillance cameras all over their property. The boys can be seen on video literally throwing lit matches at one another as they enter the home. However, it is an outdated system and doesn't export files, so Geomatrix will be needed to capture that video as well."
"We have also been secured to videotape all depositions in this case, because the demeanor of those involved needs to be captured with the testimony. Geomatrix is synchronizing these depos as well, which will be great for impeachment, as the remaining boys have repeatedly changed their stories."
"Geo's FAA certified drone pilot is recording aerial footage showing the proximity of the firehouse to the property where Billy B. met his untimely death. The firefighters could have arrived on the scene unbelievably quickly & extinguished the flames, had the fire chief not decided to call off his crew and "Let that eyesore burn."
"Much of this will be used at the trial, where our technicians are meeting the trial presentation needs of both sides."
"The winner of this case will undoubtedly secure us to produce a press release video, discussing their success in such a complex litigation. It will be released on social media & posted on their website."
Did you think of something else you would have had us do in this case? Better yet, is there something Geomatrix can do for your case?