04Mar
Presenting evidence at trial has a come a long way very quickly. Trial lawyers who want to add a powerful punch to their presentation of evidence at trial now have a lot of choices available. The top trial lawyers in Connecticut know that using effective presentation tools at trial can make a big difference in influencing the jury to give weight to the evidence you want them to see.
There are a lot of options out there, a lot of choices to be made, and a lot to learn about the technology now available. We have recently updated our very thorough overview of the latest electronic and digital trial presentation technology.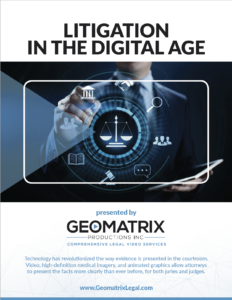 Our Litigation in the Digital Age whitepaper gives you a straightforward overview of what tools are available and what they can accomplish for you at trial. You can download a pdf file of the free whitepaper Litigation in the Digital Age here.
Geomatrix has been providing trial lawyers in Connecticut with the tools to win their cases for over 40 years. We can help you win your next case too.