01Mar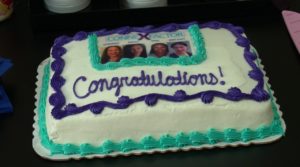 When integrated marketing and communications firm Mason, Inc. of Bethany, Connecticut wanted to bring a contest to life for one of their clients, they turned to Geomatrix Productions.
Connex Credit Union's "ConneXfactor" program has been helping their members become financially fit for the last five years with a fun and friendly competition that awards cash prizes to the winners. Each year, five individuals, assisted by their Connex coaches, vie for a chance to win a $3,000 grand prize, a $1,000 first prize or a $500 second prize. The object is to help them get a better handle on their finances by reducing debt, paying off credit cards, improving their credit score, saving money for a financial goal and much more. The competition is tied to the mission of the credit union, "to improve the lives of members, one member at a time." Even if an applicant is not chosen for the competition, they can still work with a financial advocate to help them reach their goals.
For the last three years, Derek Beere, Director of Client Services for Mason, Inc. has worked with the team at Geomatrix to create videos of the contest's winner announcement ceremony. The videos document the surprise element of the ceremony, and through interviews, tell the effect each of the winners' financial commitment has taken on his or her life. Each year's video has been leveraged on Connex's website, YouTube channel, Facebook page and emails as an exciting recruitment tool for the next year's competition.
"I thought it would be a great idea to capture the event on video and to have the members share what they learned by participating in ConneXfactor," said Beere. "It's one thing for Connex to say "participate in the competition", but it's even more credible and powerful when you hear it from people who have gone through the process and hear how it has impacted their overall financial well- being."
Over the course of the contest, the videos have been able to put a face on the competition that no other method can. According to Beere:
"The videos bring the whole concept to life on many levels. They humanize the competition, provide testimonials and deliver credibility for the credit union by having the members talk about their experiences on camera."
Beere says that his client loves the videos, which have brought the contest concept to a new level by reinforcing Connex's mission and demonstrating their commitment to their members.
"Cathie, Edgar and the team at Geomatrix are true professionals at what they do," said Beere. "We view them as an extension of our team. When we have clients who require video or we recommend video, we can always count on Geomatrix to really deliver and go above and beyond and help us in that arena."
He added, "In today's marketing climate, video definitely helps to tell your story—it makes the story more compelling. I always say a picture is worth a thousand words, but a video is worth a million."
Count on Geomatrix Productions to produce marketing videos that will bring your client's project to life.