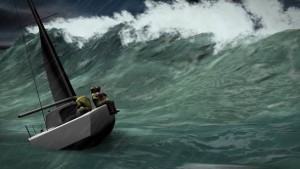 Geomatrix recently completed an animated video illustrating an incredible feat of seamanship by the crew of the Midnight Rambler.
The 35' yacht negotiated 70' waves and 100 mph winds to win the infamous 1998 Sydney to Hobart Race.
Geomatrix 3-D Animator Tom Coben recreated the physics of the massive breakers as well as the texture of the foaming crests to illustrate this dramatic undertaking.
Dennis Perkins, President of the Syncretics Group, uses the animated clips along with documentary footage recorded by Geomatrix in keynote presentations on leadership. The visuals support his message about how the crew relied on teamwork to survive life-threatening conditions and go on to win the race against the world's best sailors, including current America's cup winner Larry Ellison. On viewing the final video, Perkins raved about the results, "The animation has really moved the presentation to another level!"
The intrepid crew of the Midnight Rambler sets off again for the 2013 edition of the epic Sydney to Hobart Race on Boxing Day (December 26th) and we'll be rooting for them.